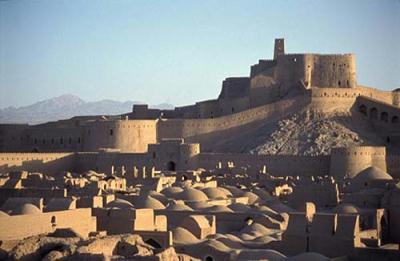 Citadel and mud city of Bam
Im Weblog
Iranian Truh
berichtet Natasha Behbahany über das Erdbeben in Iran und listet u.a. Blogger-Reaktionen (inkl. Blog-Links) auf:
Blogger Reactions
-
Faramin
: don't know if I should be sad or angry!...Even for one second don't think Rafsanjani and the rest of regime criminals care.
-
Mohammad
: Which of the following facts upset and shock you more? Arg-e-Bam the oldest and largest mud-brick citadel (and actually structure) in the world -built 2000 years ago and mainly expanded in the heyday of the Savafid dynasty (in16th Century)- being destroyed by today's earth quake. Or the casualty of almost 4000 of our fellow countrymen and women belonging to the poorest class of the Iranian society? Condolences to the victims of the today's quake
-
Ehson
: A deadly earthquake took place at a city in my country ,killed many people and wounded much more. I can hear the voice of death , it's close and it's whispering in my ears .His voice is dramatically scaring . I don't know where are the dead ones. Really , where are they now?!
-
Mehrdad
: I always wanted to travel to Bam which is the biggest mud-brick complex in the world
-
Ali Parvaresh
: I hope this would be a BIG LIE.
-
Pedram
: Meanwhile, prey if you are religious, meditate if you're spiritual, send positive vibes if you are neither. Whatever you do, keep these victims from one of the most underprivileged and deprived region of Iran in your thoughts today and think of ways to send them some help.
-
Negar
: I'm writing this with tears rolling down my face. I woke up not long ago and the second sentence I heard was the news of Kerman's quake. I'm crying like a baby not because up to 10000 of my people have died but for the ancient city I never saw. For the city that I longed to see and it's not there anymore. For the wish that never came true. For all my wishes that may never come true.
Quelle:
//www.iraniantruth.blogspot.com/
[Nachtrag 29.12.2003]
Via BBC, I just found out:
Nobel Prize winner, Shirin Ebadi (who recently donated her $1.4 million Award to promote democracy and Human rights in Iran) has opened an account to raise money for the earthquake victims. I would strongly recommend this as a trusted alternative (perhaps via relatives in Iran)
Here is the address:
Shirin Ebadi
Account No. 8080, Saderat Bank,
Tehran,
Yousef-abad Ave, Kalantary square Branch
[Via:
//www.humanfirstthenproudiranian.blogspot.com/
]