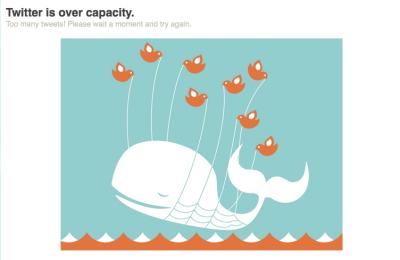 Was wäre, wenn? – Die Welt auf Schwäbisch
Vom YouTube-Kult zur eigenen Fernsehsendung
Hat Barack Obama Wurzeln in Reutlingen? Seit wann kann Merkel alles außer Hochdeutsch? Und: Warum war Yogi Löw bei der Fußball-EM mit seinem Tribünenplatz gar nicht so unzufrieden? Antworten auf diese drängenden Fragen gibt eine Sendung, die so im deutschen Fernsehen noch nicht zu sehen war: "Was wäre, wenn? – Die Welt auf Schwäbisch". Überraschend und witzig werden hier Ausschnitte aus Nachrichten- und Unterhaltungssendungen, Talkshows, Dokumentationen, Serien und Spielfilmen schwäbisch vertont. Dabei werden auch die Inhalte neu aufgemischt – mit Themen von Kehrwoche bis altes "Glomp" (schwäbisch für: "unnützes Zeug").
Der Macher und Autor der Filme, Dominik Kuhn, spricht alle Stimmen von weiblich bis männlich, von jung bis alt selber. Im Internet ist er seit Jahren Kult. Weit mehr als zwei Millionen Mal wurde sein YouTube-Clip "Virales Marketing im Todesstern Stuttgart" bisher angeklickt, in dem die "Star-Wars"-Helden Darth Vader und seine Getreuen schwäbelnd über die Vorteile neuer Werbekonzepte diskutieren. Der Südwestrundfunk (SWR) konnte Dominik Kuhn für sein erstes Fernsehprojekt gewinnen: Am 11. Januar 2009, um 21.15 Uhr präsentiert Moderator Malte Arkona im SWR Fernsehen das Ergebnis. Zum Beispiel Jan Hofer und die Tagesschau auf Schwäbisch – ein großer Spaß, vor allem, weil sich mit dem Dialekt auch die Inhalte ändern: Grund für eine Außenreparatur an der ISS (International Suabian Space Station) ist z. B. der verschmierte Schminkspiegel in der Damentoilette der Raumstation. Obamas Rede in Berlin wird zu einer gigantischen schwäbischen Hausbesitzerversammlung. Aus einem John-Wayne-Klassiker wird der neue Fernsehdreiteiler "Grüß Gott, Herr Cowboy", in dem John Wayne – der Jockel – schwäbische Landeier ins Großstadtleben lotst. Die Neuvertonung ist dabei so professionell, dass man sich nicht mehr vorstellen kann, dass die Protagonisten der Filme ursprünglich einmal etwas ganz anderes gesprochen haben.
In Zeiten, in denen der Film "Willkommen bei den Sch'tis" mit seinem Thema "Dialekt" Millionen in die Kinos lockt, sucht auch das Fernsehen einen ungewöhnlichen und vor allem unterhaltsamen Zugang zur Mundart. "Was wäre, wenn? Die Welt auf Schwäbisch" – eine überraschende Form von regionaler Unterhaltung. Die Redaktion der Sendung hat Klaus Herrberg.
Sendung: Sonntag, 11. Januar 2009, 21.15 bis 21.45 Uhr im SWR Fernsehen
Via:
//www.swr.de
Arrrrghhh !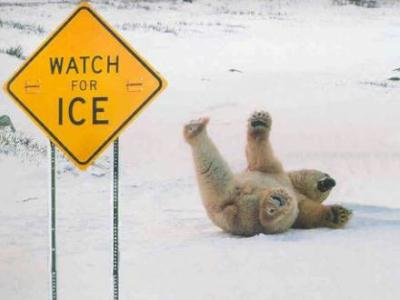 ... ein bisserl glatt heute ;-)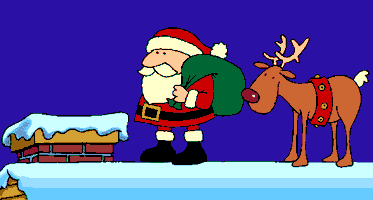 "The newspaper business works much like an old-style manufacturing business where stories go from reporters to assigning editors to copy editors to layout editors with the final destination being the next day's newspaper. A lot of thought and knowledge goes into the newspaper creation process, but it ends up getting thrown out, just like the daily paper.

Another area that newspapers spend a lot of time on is deciding what's important and what's not. At a major newspaper, this is more than 40-person hours a day of the most senior editors. This is conveyed in the newspaper by what page a story appears on, the position on the page and the size of the headline. Again, most of this information is lost by the time the story reaches online.

Of all the companies in the media business, newspapers have the strongest assets for capturing knowledge about current events. The type, quality and volume of original content they create is incredibly expensive to do. They just need to decide to move from the fishwrap business to the knowledge business."
onlinejournalism is not just writing a webpage or filming a video;
it is commenting on a blog, or bookmarking a webpage.
That there are no walls in cyberspace, only links;
and that journalism lies in every act that you commit online.
You just need to make it visible.
Via:
onlinejournalism blog

Via:
Zum runden Leder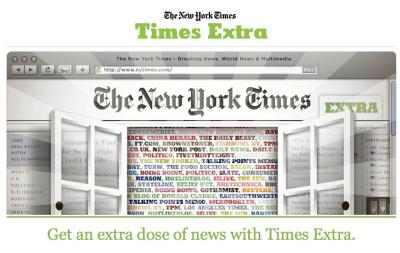 This new feature on NYTimes.com offers related links from other news sources and blogs around the Web. ...
Mehr:
//www.nytimes.com/marketing/timesextra/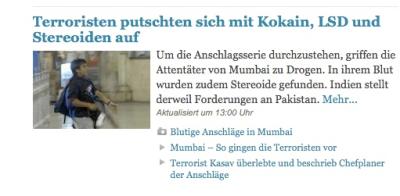 Wir wollen hier nicht pingelig sein, war bestimmt ein Tippfehler .... oder etwa doch nicht? NEIN, es hat System ;-)
Guckst du hier