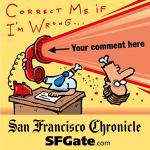 Almost every day, The Chronicle hears from readers (and some non-readers). Most of these comments -- voicemail, email and letters -- don't make it into our letters column. But they can be unusually passionate, irate, confounding and creative.
We listen to them and read them, and we think some of the more interesting and unusual ones are worth sharing.
So, today, we're starting a new feature to showcase these communications. It's called, "Correct Me If I'm Wrong."
Mehr:
//www.sfgate.com/cgi-bin/blogs/sfgate/detail?blogid=5&entry_id=12853